Lip Filler
Filler applied to the lips to give a more full appearance
Filler applied to the lips to provide crisper borders
Filler which optimises the ratio between the upper and lower lip
Filler which is used to enhance the cupids bow
Also known as: Lip enhancement, lip augmentation, luscious lips
Overview
Create lips which are soft, smooth and hydrated with crisp borders and excellent definition
Premium, gold standard product
The lip design is entirely focused on patient goals and facial harmony
Entirely bespoke and tailored treatment – no pair of lips are the same
Results Last: 6-12 months
Cost : $390 – $750 (dependent on product and volume)
About lip filler
Lip filler is one of Dr Tarek Shalabi's most popular treatments. Lip filler can be used to provide any or a combination of the following:
Enhance the shape of your lips to define your cupids bow
Increase the volume of your lips
Correct asymmetry within your lips
Further define your lip borders so that they incredibly easy to apply lipstick to
Provide a more hydrated appearance of your lips
Optimising the size ratio between your upper and lower lip
Harmonise the size and projection of your lips to enhance your overall facial profile
In order to achieve great results, Dr Tarek selects from multiple products and a collection of advanced injecting techniques to ensure that you receive genuine enhancement of your natural beauty.  Dr Tarek aims to provide full natural looking soft and full lips which still move freely without disappearing when talking, smiling and laughing.
BEFORE AND AFTER IMAGES OF DR. TAREK'S LIP FILLER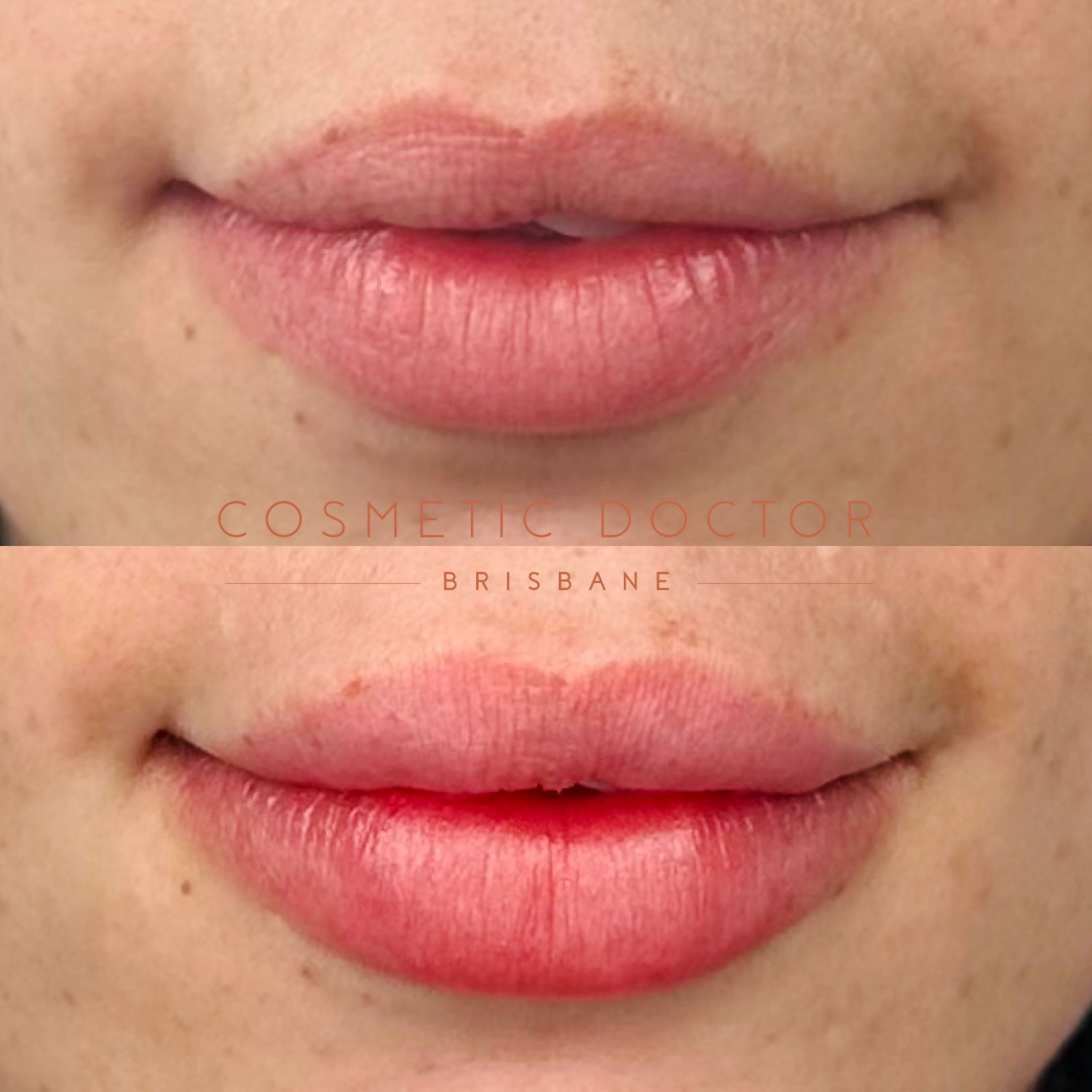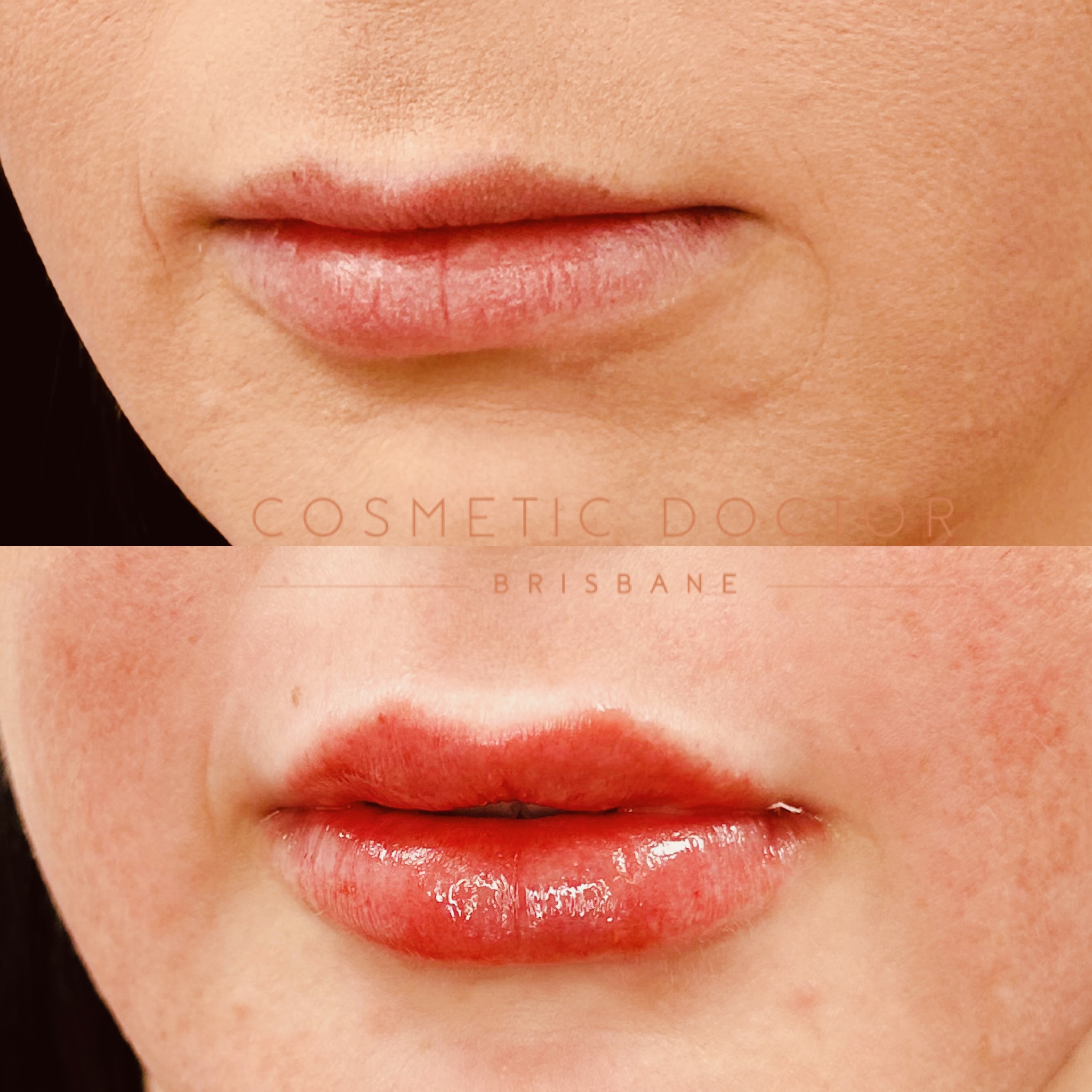 How to ensure you get the best lip filler
Dr Tarek Shalabi has undertaken extended and advanced training in lip filler treatments and is highly experienced in this field.  He is also a national trainer for cosmetic injectables and teaches lip filler techniques to doctors and nurses on a monthly basis.  He uses a no pressure approach and spends time with all his patients before the procedure in order to understand their goals and objectives.  He will then work together with the patient to establish a treatment plan.  Dr Tarek frequently sees patients who have different goals including, subtle enhancement and hydration, to gain more symmetry, reversing the aging process by adding volume, creating a bold and seductive pout.
How does lip filler work?
Dermal filler is composed of hyaluronic acid which is a naturally occurring compound found in our own skin.  Dr Tarek injects this at specific points and angles within the lips to create the desired effect.  Different types of filler have different properties and Dr Tarek is able to select either one or a combination of products to tailor your treatment.
What will happen on the day?
You will consult with Dr Tarek Shalabi and have plenty of time for explanation, discussion, questions. You will then be given some time to decide on your procedure and go through the consent process.
Before pictures are taken and Dr Shalabi will go through your images and plan your treatment with you. This may include some illustrations on your images to show you the overall plan and technique so that your treatment can be tailored to your needs.
A high-grade numbing cream will be applied to your lips, this contains 3 different types of anaesthetic to make the procedure as comfortable as possible.
Dr Tarek will inject your filler. He always takes time to inject smoothly and methodically to ensure that he is able to deliver the best possible outcomes for his patients.
He will then show you before and after photos of your lips. At this stage, any final adjustments can be made and Dr Tarek will go through your aftercare regime.
In certain cases where patients would like a large volume whilst preserving a natural look, Dr Tarek will provide a two stage method where 2-3 sets of injections are separated by 4-6 weeks.
Aftercare
No make-up, hot saunas, high intensity exercise, excessive alcohol consumption for 12 hours after your procedure.
There is some initial swelling within the first few days along with some possible bruising that is usually able to be concealed with a lip pencil or a tinted lip balm. Results last 6-12 months depending on the type of filler required.
Dr Tarek will follow up with all his procedures 2-3 weeks after, any top ups or adjustments are complimentary and free of charge.
What are the risks with lip filler?
Bruising is common and generally settles within a few days.
Infection is rare, and very clean and sterile environment ensures that this risk is low.
Aggravation of cold sores is a risk and for this reason we ask any patients who have cold sores to let us know in advance so that we can give some advice on some prophylactic medication to take on the day of having your lip filler
Dr Shalabi will provide further information during your consultation and will be happy to answer any questions.
Would you like to find out more about this procedure?
Please feel free to book in a complimentary consultation here
Alternatively give us a call on 0468 388 158
Follow us on Instagram for regular updates and further information